workshop
forrest yoga intensive
with sinhee ye
sat, 9th and su, 10th of november 2019, each day from 10 am to 4.45 pm
saturday, nov 9th 2019
balance
join sinhee in practice for coming to balance by increasing awareness, breaths and connection with practice. this forrest yoga intensive workshop will be focused on how to unlock habitual tensions of body and mind in poses.  we will experience how deep breathing increase awareness to feel what actually shifts in poses.   additionally she will share knowledge and experiences about how structure works in most efficient way against gravity to be light with practice.
10am-12:15pm: neck, shoulders and spine connection (arm balances)
learn how to unlock tensions on back (spine) and neck muscles which will give you much more mobility of spine to increase core functions.  we will practice pelvis movements and abdominal connection.  serrates anteriors, upper abs and lower abs and active hands connection to make body light.  
2:30pm-4:45pm: heal your heart (back bend)
come home where you stop chasing instead be with breaths, and heart space to heal.   healing is not fixing, changing your body and mind.  it is learn to be with body and mind with high awareness so you move and make decisions that supports you in healthy and loving way.  experience classic forrest yoga healing back bend sequences and feel spacious in body and nourished in heart.
sunday, nov 10th 2019
10am-12:15pm: core connection (inversions)
we will learn hips, abdominals and legs coordinations to increase core function.  there will be poses at different stages of building core functions for inversions.  we will give ourselves opportunity to enjoy the part we can with practice vs. what must happen in our expectation. that is much more fun.
2:30pm-4:45pm: hip hip hooray (balanced hips)
we will learn space between hips, abdominals and legs in pelvis.  learn forrest yoga leg traction movement to create space in hips and legs.  i will take you through demos of how pelvis functions in relation to spine and legs to maximize traction and balanced hips.
workshop forrest yoga intensive 
with sin hee ye 
date: sat, 9th and so, 10th of november 2019, each day from 10 am to 4.45 pm
location: studio poweryoga vienna, 1020 Wien, Franz Hochedlingergasse 4
costs:
early bird price for all 4 workshops: € 150.- (book and pay until 9th of september) after that
all four workshops: € 179.- every single one: € 49.- ( no early bird on the single workshops)
registration: klick here: https://poweryoga-vienna.at/lageundkontakt/
about sin hee ye
sin hee has been actively teaching globally as a forrest yoga guardian since 2007. her teaching and mission have been evolving through changes in life. with awareness, breaths and connection.  sin he's intents in teaching involves bring unity beyond personal difference within forrest yoga community and have a courage to choose healing and love for herself and for the community.
as a guardian, it is exciting to witness the growth of forrest yoga throughout the world. sin hee has insightful knowledge of both anatomy and bodywork.  she offers vast knowledge in working with injuries from repetitive motions from yoga, sports, and daily life.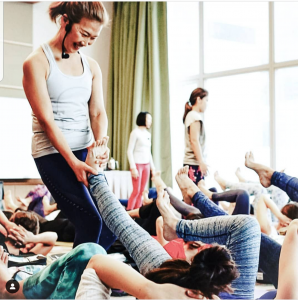 sin hee mccabe
forrest yoga /body work
eryt- 500
yacep
website: www.sinheeyoga.com
videos: https://youtu.be/juc-mg3xgd0   https://youtu.be/p3bqzpqohfy
https://youtu.be/se637oxwfco   https://m.youtube.com/?#/watch?v=grrk5kyjgae
https://m.youtube.com/?#/watch?v=qmosi10qnwq
https://m.youtube.com/?#/watch?v=3kf5tkwxmaw